Copy of The best 'superfights' we could still see in 2020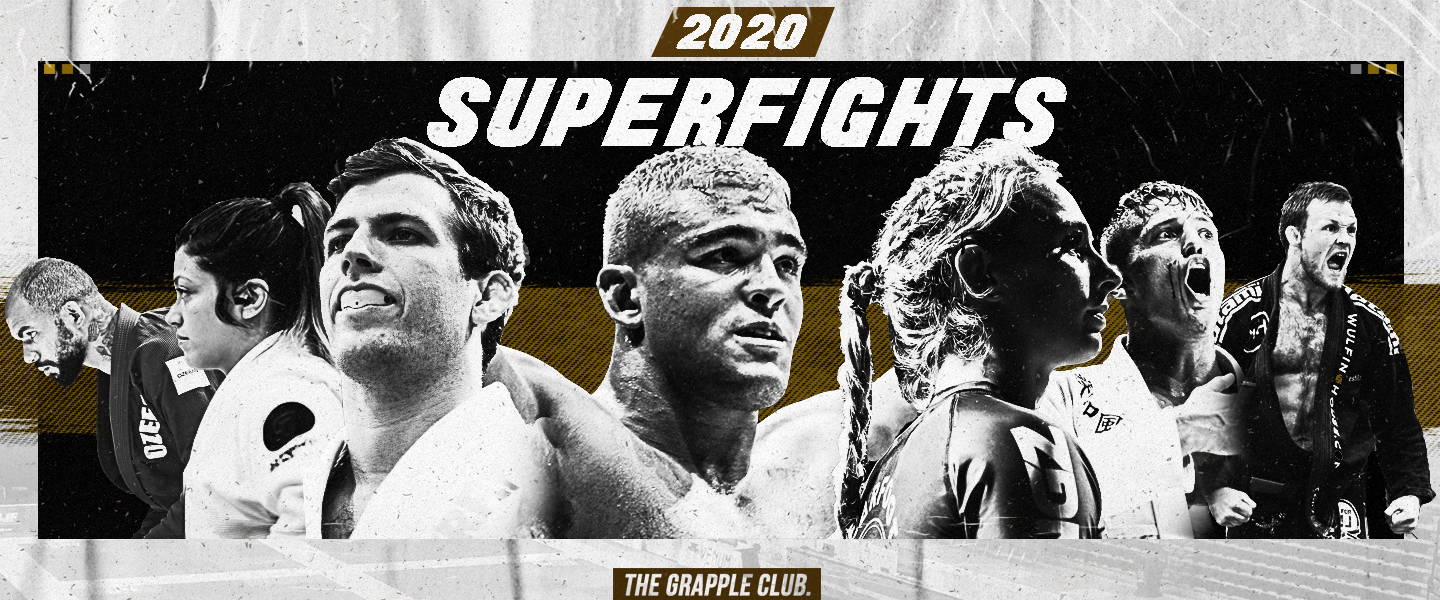 Submission Series #1 – Results & Recap
As promised, the first Submission Series event showcased the current and future
superstars of the UK submission grappling scene, delivering high paced and
competitive performances across the board. Encouraged by the format which
favoured submission attempts, participants hunted finishes relentlessly, took risks,
and, even when contests were left to the judges, there was ultimately little room for
doubt who was victorious at the conclusion of each contest.
The event's tournament crowned the inaugural Submission Series champion in the -
80kg division in surging Grand Union competitor Jed Hue. It will take a special talent
to defeat the -80kg champion if he continues to defend his title on the promotion in
the future.
The results and fight-by-fight breakdown are below. Commentators for the event
were Yousuf Nabi, blackbelt and head coach of Elements BJJ, and experienced ring
announcer and MMA fighter Dean Middhat, who offered expert insights into the
details, nuances and play-by-play of every match.
Submission SeriesChampion: Jed Hue (Grand Union)
One of the competition's predicted favourites, Jed Hue demonstrated a multidimensional game in all areas of submission grappling to achieve four victories (two via submission).
Runner up: Ellis Younger(North East JiuJitsu)
Ellis Younger's impressive performances reinforce his credentials as a serious prospect on in UK grappling.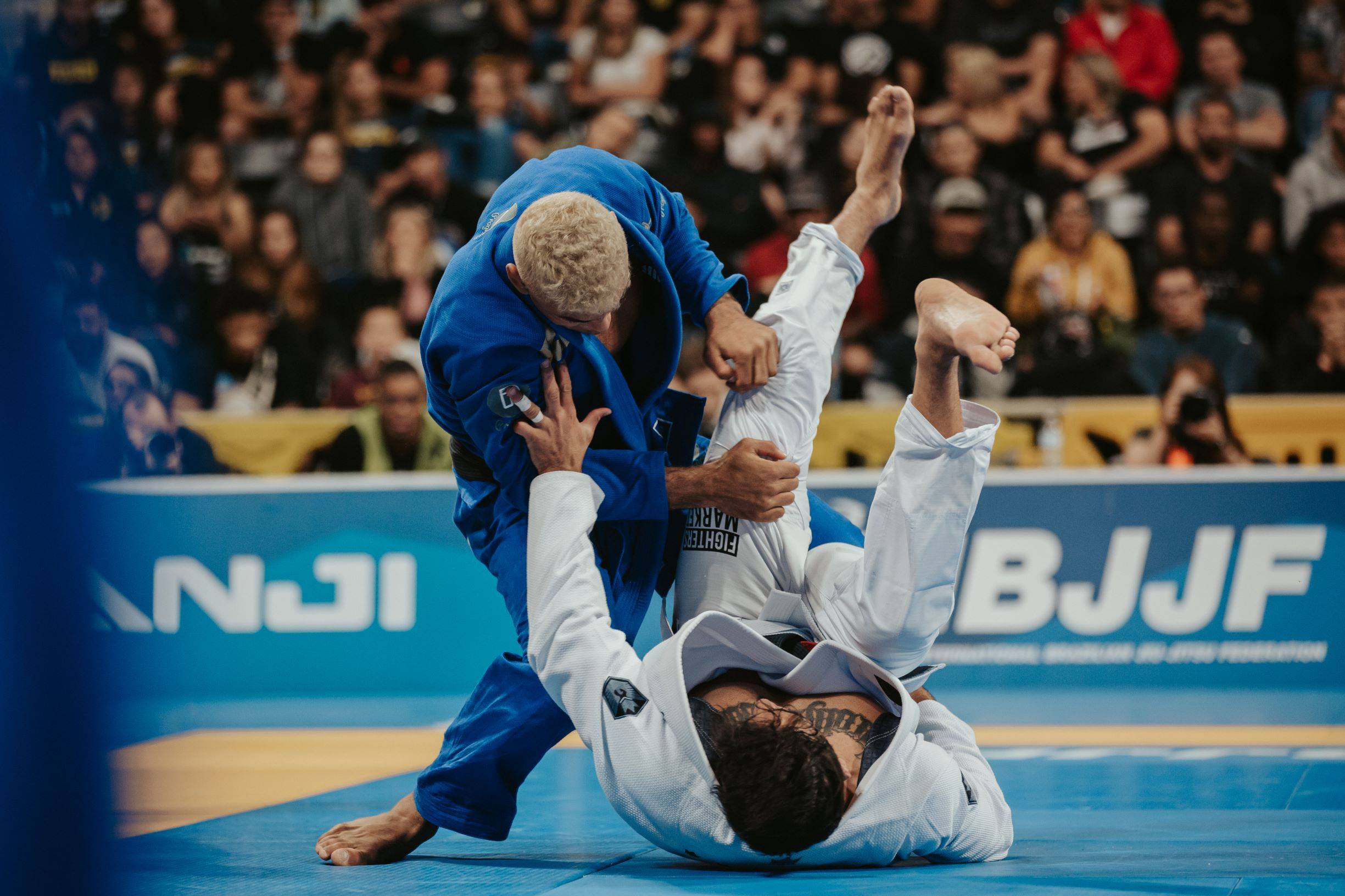 Jonas Grace (New Wave) defeats Mark Lindars (Stealth BJJ) via D'Arcechoke
Mark Lindars showcased some impressive wrestling to secure takedowns and positional progression in the early stages of the contest, but it was Grace's reputation for tentacle-like submission abilities that would win the day via a characteristically lethal D'Arce choke.
DM: "What a performance from the brown belt from New Wave Academy"
YN: "He ended up in a hybrid north-south D'Arce choke there, a nice variation"
Eoghan O'Flanagan (New School) defeats Ellis Younger (North East Jiu Jitsu) via unanimous decision
This contest saw a clash of sophisticated leg lock games between two highly accomplished competitors, leading to a number of entanglements. Younger's sprung a late flurry of varied submission attempts but it was O'Flangan's sustained targeting of the legs that swayed the judges in his favour.
DM: "O'Flanagan was constantly threatening submissions… but [Ellis] did a
great job of escaping"
Jed Hue (Grand Union) defeats Rafael Colonhese (Fight Zone London) via submission (heel hook)
Fight Zone's Rafael Colonhese appeared to have an advantage in the stand-up period of the match but it was Jed, well-known for his world-class leg attacks, that came close to a submission via kimura following a successful guard pass attempt from standing. Rafael demonstrated remarkable flexibility and determination to survive the attack but was forced to submit to a rapidly applied heel hook with just
twelve seconds remaining.
DM: "It was so fast. He went belly down to put more pressure on the knee"
YN: "There was no way he was going to get out of that one"
Dominic Dillon (Elements) defeats Kevin McAloon (SBG Moray) unanimous decision
Returning to competition following recent breakthrough performances against top UK and European competition, Element's Dominic Dillon was able to overcome a prolific competitor on the Scottish grappling scene in Kevin McAloon via a unanimous decision victory. The contest was competitive, but Dillon used his well-practised kimura trap system to great effect to earn the victory.
DM: "What a valiant attempt for the kimuras from Dominic Dillon"
YN: "Great job by both of them, with Dom attacking and Kevin defending"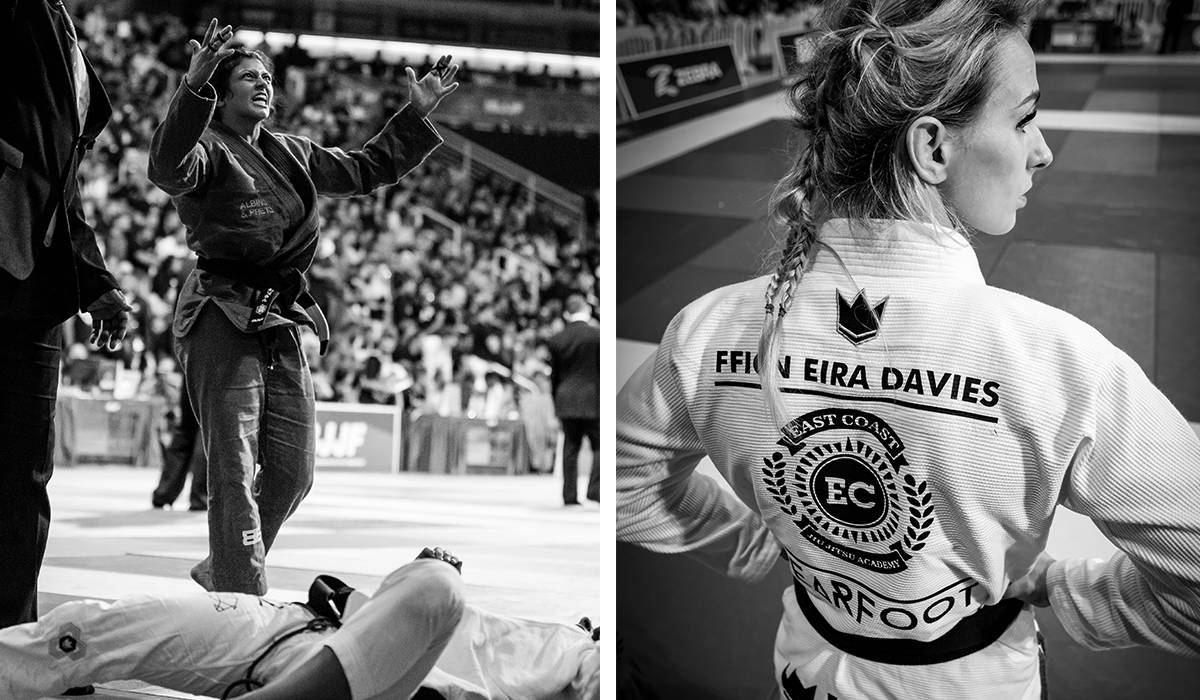 Jed Hue (Grand Union) defeats Mark Lindars (Stealth Jiu Jitsu) via unanimous decision
Similarly to his opening match, Mark Lindars' employed aggressive wrestling in the early stages of his contest against Jed Hue, while also demonstrating a number of energetic guard pass attempts. It was an admirable and competitive effort against the eventual tournament winner in Hue, but Jed's combination of powerful scrambles, slick movement on top position and arm triangle submission attempts were enough to earn him a hard-fought victory.
YN: "Mark managed to get a few takedowns, Jed reverses him to mount, and a couple of very close arm triangles as well".
DM: "There was a lot going on here. It's the hidden Jedi spirit of jiu jitsu"
Kevin McAloon (SBG Moray) defeats Eoghan O'Flanagan (New School) via unanimous decision
A competitive bout saw Scottish purple belt Kevin McAloon achieve an impressive victory over the young standout from New School BJJ, Eoghan O'Flanagan, who is an accomplished veteran of the major UK grappling promotions. O'Flanagan was able to secure a perfect inside trip to kickstart the action, but the top-heavy pressure of SBG Moray representative saw the decision go his way.
DM: "I did like McAloon's pressure from the top… he was a bit more aggressive"
YN: "Kevin always had top position; I think the referees were right on this one"
Rafael Colonhese (Fight Zone London) defeats Jonas Grace (New Wave Academy) via unanimous decision
New Zealander Jonas Grace pushed the action in the early stages of the match with an aggressive and fast paced style, mixing in trip, throw and snap down attempts. Perhaps reflecting a slight experience advantage, Brazil's Colonhese's methodical approach relied on counters, flexibility and a series of back take attempts. This strategy eventually proved fruitful, earning the competitor from Fight Zone London a
unanimous decision victory.
DM: "Colonhese did a great job [on his takedowns]. The helicopter armbar
attempt was a beautiful attempt… it was a good decision by the referees"
Ellis Younger (North East Jiu Jitsu) defeats Dominic Dillon (Elements) via submission (Anaconda choke)
Dominic Dillon tried to utilise his sterling wrestling pedigree to his advantage in the standing phase of the competition format, but Ellis Younger's submission game proved too dangerous, sinking in an early Anaconda choke to achieve the quickest submission of the night.
DM: "Ellis Younger has just proved he can submit opponents from any position"
YN: "He managed to get that submission within the first two minutes. That's going to give him 60 points on the leaderboard"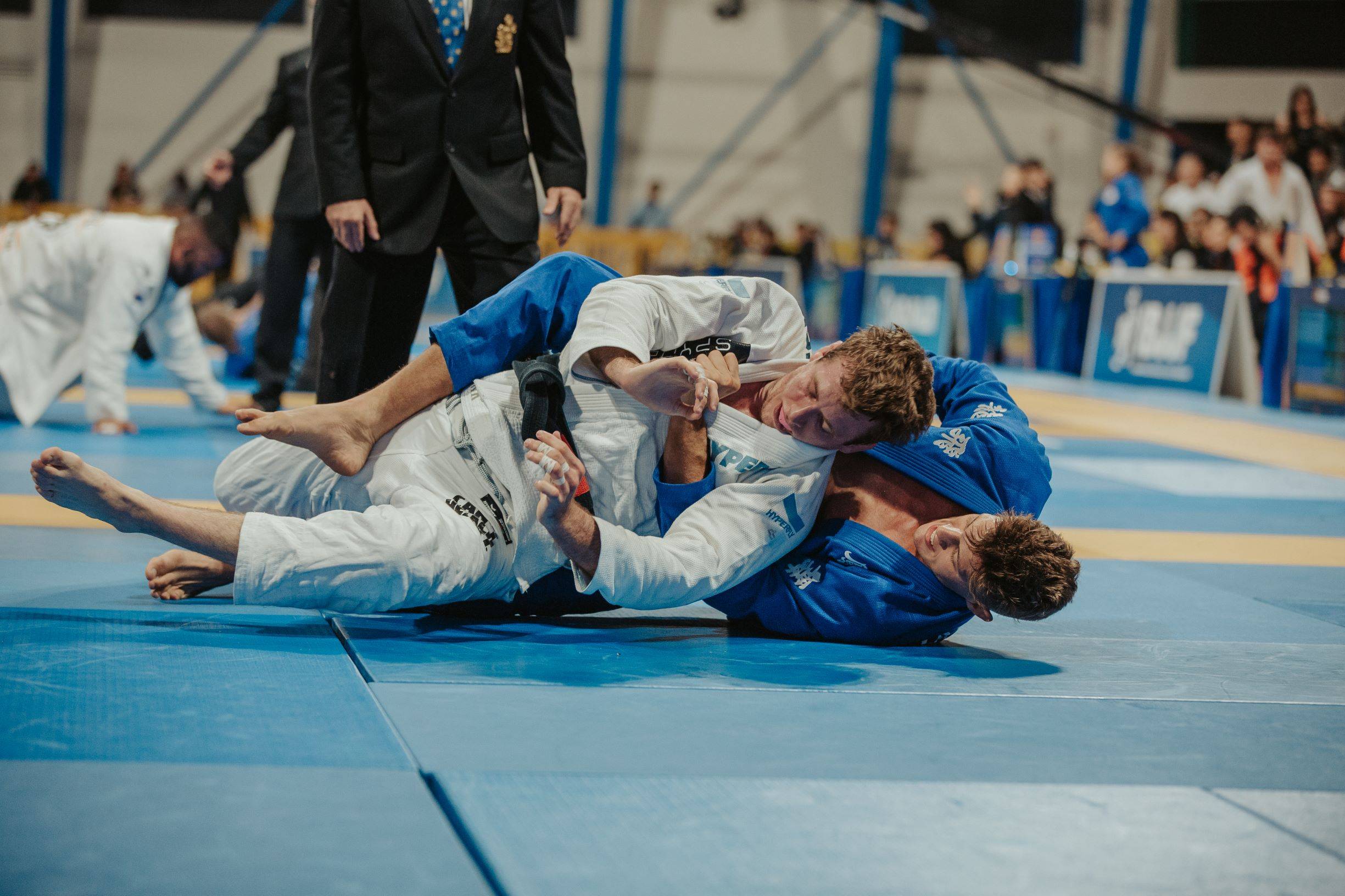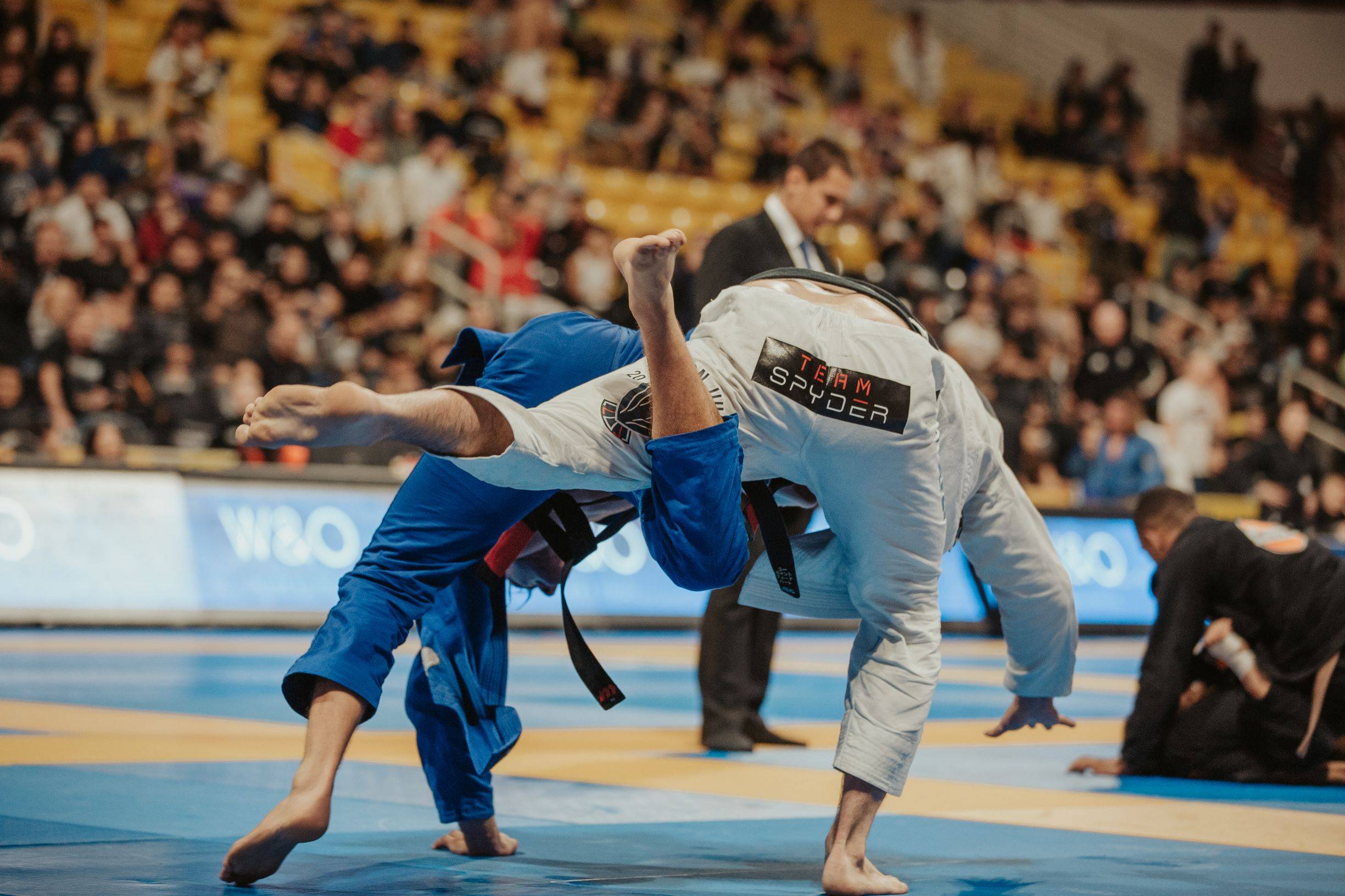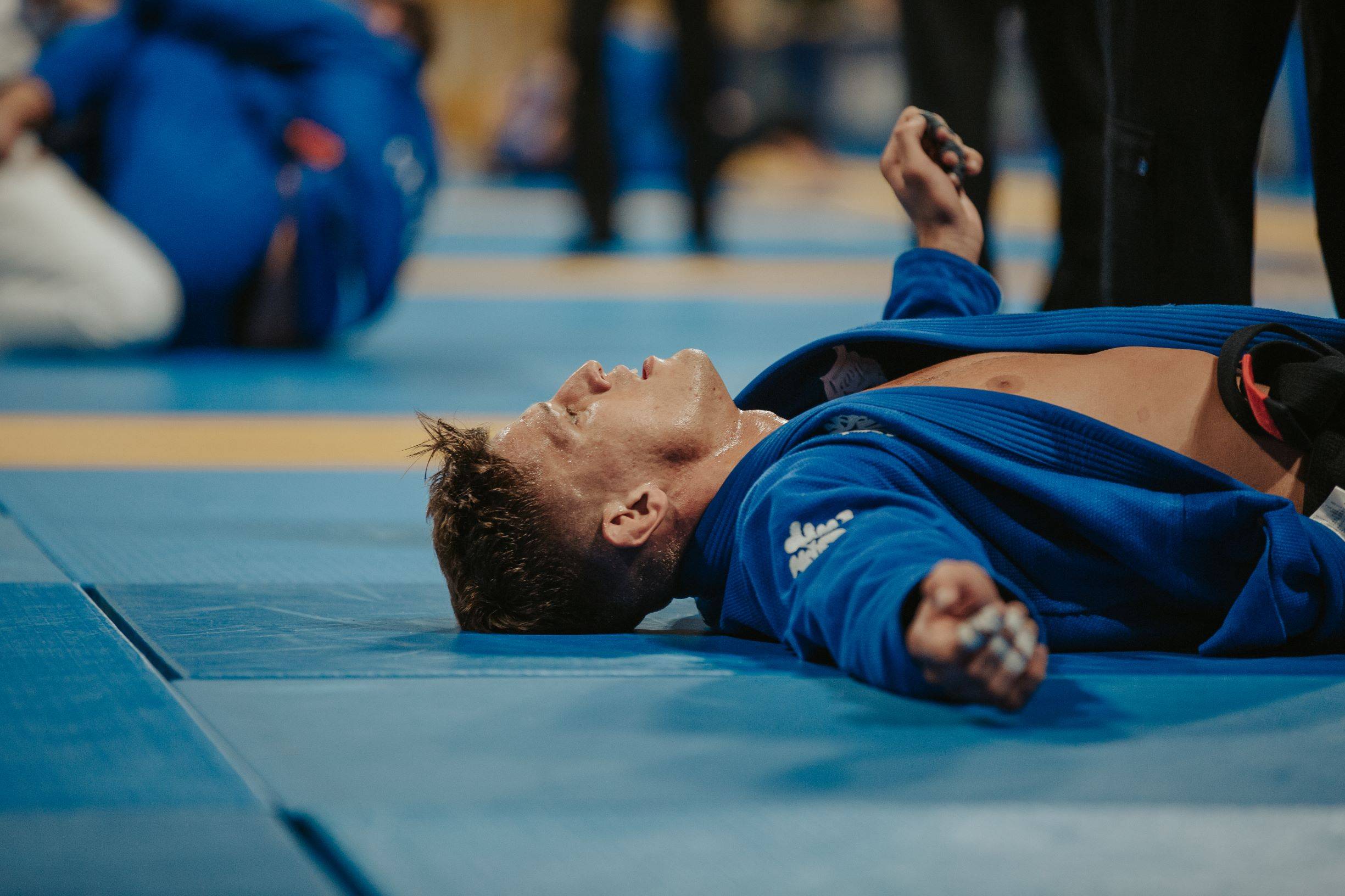 Mark Lindars (Stealth Jiu Jitsu) defeats Rafael Colonhese (Fight Zone London) via unanimous decision
An intense contest that could have arguably gone either way, Lindar's relentless forward attacks and heavy scrambling eventually earned him a tough victory against Fight Zone competitor Colonhese. Both men looked visibly fatigued but Colonhese spent more of the match defending, giving Lindar's a well-deserved victory.
YN: "If it was down to score cards, it would have been a split decision".
DM: "His ability to pass the guard, control… He [Lindars] definitely earned the win there"
Eoghan O'Flanagan (New School) defeats Dominic Dillon (elements) via submission (heel hook)
A frantic and high paced match saw an excellent takedown executed by Dominic Dillon, before a series of scrambles culminated with a successful back take from the New School competitor. Dillon was able to capitalise on O'Flanagan's fatigue as the match progressed however and threatened with attacks from the mount position. In perhaps the most dramatic sequence of the show, Eoghan managed to reverse the
script with a superb last-minute heel hook submission, earning him submission of the
night in the process.
YN: "Eoghan O'Flanagan surprising us all there… he was definitely tired"
DM: "He really did pull it out of the bag"
Jed Hue (Grand Union) Jonas Grace (New Wave Academy) via unanimous decision
Grand Union competitor Jed Hue was able to stamp his authority on this match early, quickly dragging Jonas to the mat and attacking the back. Hue followed this up with some excellent transitions to complete a back take and subsequent arm bar attempt. Jonas' resolute defence held up as Jed chained submission attacks throughout the match, complimented by effective top-heavy movement. It was a valiant effort from
the New Wave competitor but a dominant victory for the man representing Grand Union.
DM: "Great work from Jed Hue there. I love the way he secures the seatbelt and is able to follow his opponent, even in the rolls here, the transitions, the dead space. He's still looking to roll and establish one hook and skip the next one round".
YN: It seemed he [Grace] was on the back foot for pretty much the whole thing. Impressive show from Jed there"
Ellis Younger (North East Jiu Jitsu) defeats Kevin McAloon (SBG Moray) via unanimous decision
A cagey opening few minutes to the match between the two competitors almost saw McAloon claim a second upset win of the evening via a close heel hook attempt. In a frenetic final few minutes, Younger picked up the pace and exhibited a variety of attacks and reversals, earning him the victory and his spot in the final.
DM: "[Ellis] did enough in the judges' eyes"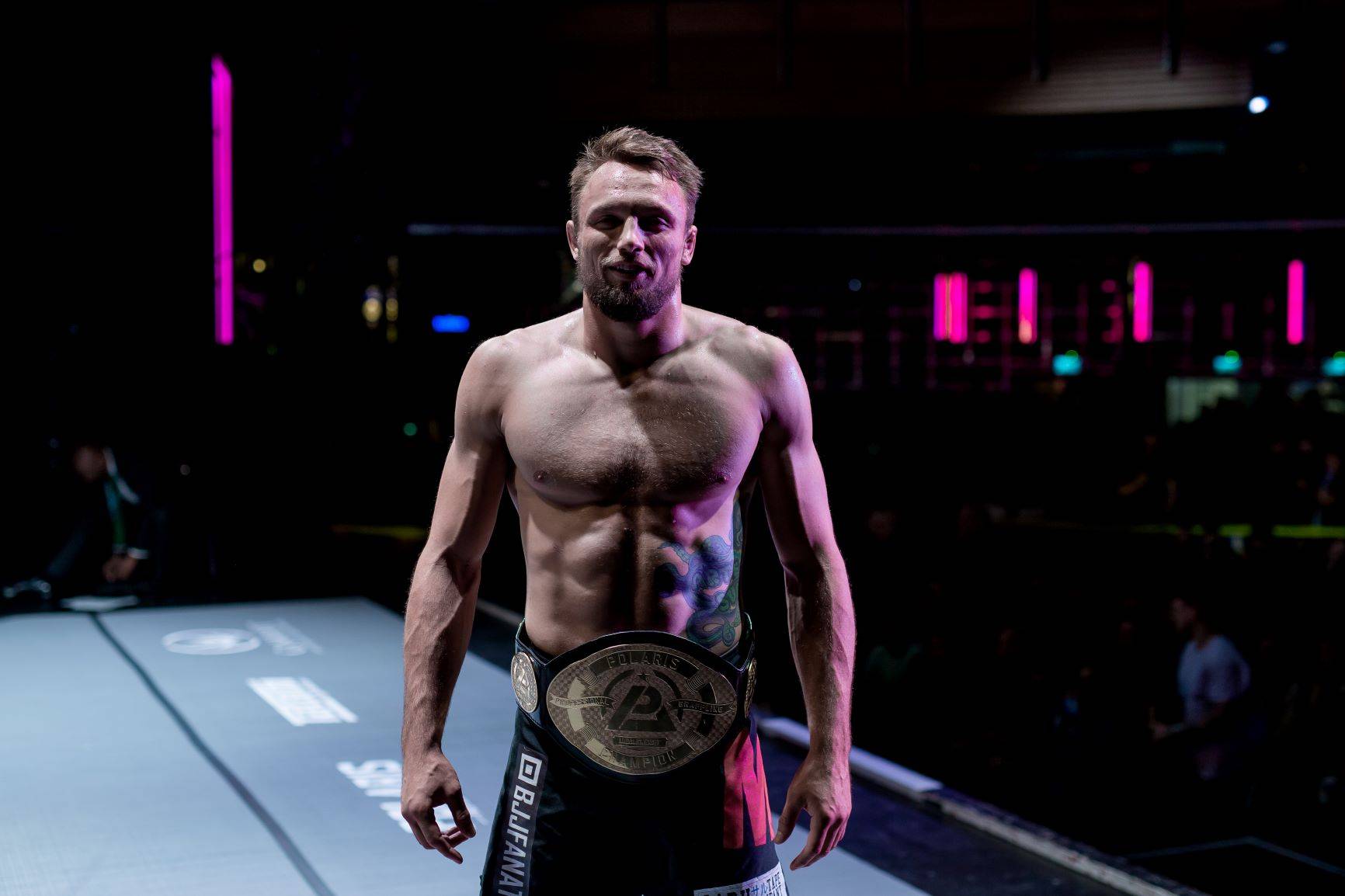 i) Kate Bacik (Elements) defeats Nadine Tavares (Fight Zone London) via

submission (rear naked choke)
A clash of styles between rising stars of women's grappling Kate Bacik and Nadine
Tavares brought an aggressive back and forth contest in which both women looked
close to a finish on multiple occasions. Both threatened leg attacks in an extended
leg entanglement, before Tavares was able to execute a tight but ultimately
unsuccessful head and arm choke. Bacik demonstrated her skill and determination
by escaping, taking the back and force the read naked choke submission.
· YN: "Up until the choke it seemed very even"
· DM: "A valiant attempt [by Nadine]"
ii) Steve Hill (Novo BJJ) defeats Sam Quinn (Stealth Jiu Jitsu) via
unanimous decision
Steven Hill emerged victorious in his debut superfight performance in a technical
matchup between two high-level competitors, both with impressive wins against
black belt calibre opposition on the competition circuit. Hill looked more comfortable
in the wrestling segment of the match and was able to back Quinn up for the first two
minutes. The undefeated pro MMA fighter utilised a heavy wrestling and relentless
guard passing strategy to nullify Sam Quinn's always dangerous leglock game. Both
men jumped on opportunities for leg attack submissions when they arose, but it was
Hill that came closer via footlock and heel hook attempts, ultimately earning him a
unanimous judges' decision victory.
· DM: "A hard fought fights by the athletes. Steve did a great job utilising the
wrestling… the pressure passing, the active ability to threaten to skip past the
legs which edged the judges' decision"
· YN: "The last-minute flurry at the end played a big part too. Steve looked very
dangerous on the neck"
Submission Series Final
Champion – Jed Hue (Grand Union)
Runner-up – Ellis Younger (North East Jiu Jitsu)
In a fast-paced final match saw Jed Hue defeat Ellis Younger via Aoki lock after a
back and forth contest, with both coming close with sweep and guard passing
attempts. While the Brown Belt world champion Younger had his moments
throughout, it was Jed that executed a dynamic transition to a devastating foot attack
and quick submission after around ten a half minutes of action, cementing himself as
arguably the brightest prospect in British submission grappling in this weight class.
Coming in amongst the favourites for the competition, Jed Hue delivered on the hype
by becoming the first ever Submission Series Champion at -80kg and take the first
Submission Series title back to London.
· YN: "You see the knee twisting out to the side there and the heel coming out.
That's a dangerous footlock".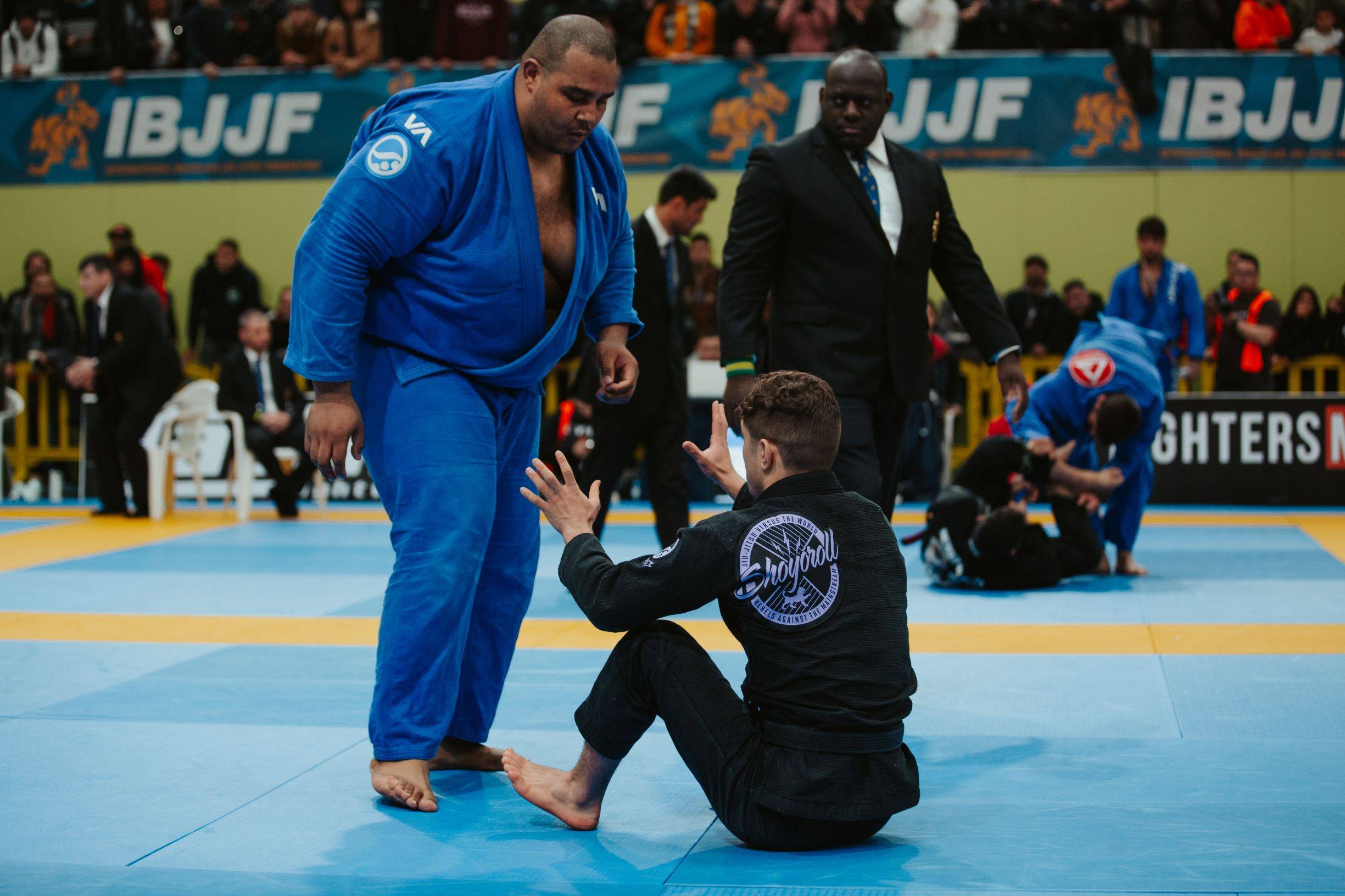 ---